More than Words
Mysteries, histories, and power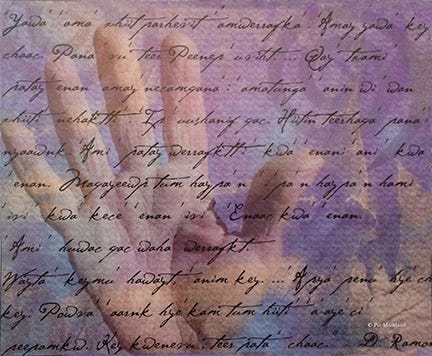 "Wayta
'
Yawa
', Always Believe,
" (Pat Murkland Illustration)
Our Southern California Native languages tell who the people are, the rules for living well, and the history of the people since the beginning when all was darkness. Words hold power. Two Elders (Ernest Siva and Georgiana Sanchez) and a teen-ager (Sophia Madrigal) this week share the power of language. Sophia Madrigal's new play, coming November 6, 2020, further explores the power of cultural stories in healing.
Ernest Siva: Calling animal friends in Serrano
Ernest Siva (Cahuilla/Serrano), president of Dorothy Ramon Learning Center, shares a fun tale about his everyday use of the Serrano language. Watch for more details on a Serrano language class.
Georgiana Sanchez, Chumash (2006):
Looking at the World Differently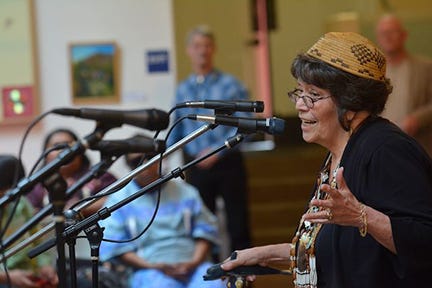 Georgiana Sanchez shares poems and stories at Dorothy Ramon Learning Center's 2016 Native Voices Poetry Festival (Carlos Puma Photo).
"There's a whole way of looking at the world that is different in my language, in my Chumash language, than English," Elder Georgiana Sanchez told the crowd in the lecture hall at California State University, San Bernardino. (1)
"English looks at the world differently. My language is verb-based. It's really hard in my language to objectify something. And you're always in a relationship to somebody. You can't just be abstracting 'a mother.' You're … always, always somebody's mother. … You're always in relationships and it's always very dynamic. You are being healthy when you say that. You're not 'going to be' healthy and you're not abstractly healthy. While you are healthy, the words you say, you are being, at that moment. …
"It's just a whole different way of looking at the world."
Ernest Siva, Cahuilla/Serrano (2008):




Qay'tampc haypan' omik meewerrafk
!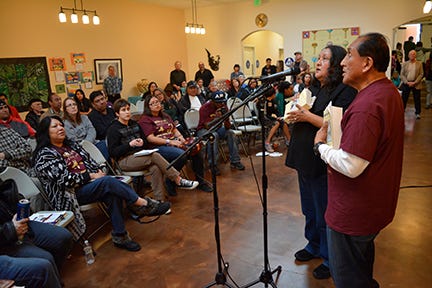 Ernest Siva and Carolyn Horsman share family member Dorothy Ramon's stories and memories in Serrano with a crowd at Dorothy Ramon Learning Center's annual Native Voices Poetry Festival. (Carlos Puma Photo)
(Don't ever forget your language!) (2)
We have heard that statement before. I mention it just as a reminder. It is so easy to get caught up in "having a life." Which is to say,  making a choice as to how we spend our free time, after having fulfilled our responsibilities to family, job, school, whatever the case may be.
But, one's endangered language should fit in our daily lives and activities with a little effort.
I have found that just speaking our Serrano language naturally or casually can be helpful for others learning the language. The other day, I absentmindedly said: "Nachi'ch mih (Let's go)." And, my wife, June, replied, "Were' (Yes, or OK)." We both made note of it, saying that we should practice more. And we have.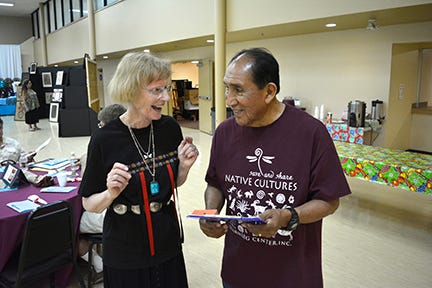 June and Ernest Siva at Dorothy Ramon Learning Center's annual Dragonfly Gala (Carlos Puma Photo).
"Switching languages as they went on"
As I recall, growing up on the Morongo Reservation, our family used a mixture of Serrano and English. The youngsters tended to speak more English than Indian. I didn't hear the Cahuilla language much. Once in a while a visitor would come and talk to our grandfather, Pete Ramon. Our grandfather spoke several dialects of Cahuilla and Serrano. That was the mark of the old-timers, who, when they gathered anywhere, would carry on with stories and jokes, switching languages as they went on. Seems like they could spend hours doing that. Apya'n mutu' chilyk. (At that time I was still little.)
When the adults in our family spoke to each other, it was pure Serrano (Maarrenga't). So, we were lucky to have experienced that. I realize that there were families who didn't use the language as much. Some of this was by design.
As the U.S. governmental policy of acculturation was carried out, boarding schools were part of the plan. My mother would tell us of these times, and that if it weren't for the fact that her parents spoke their language to them at home when she returned for the summer, she would have lost her language. Other families chose not to practice their language, thinking that it would be better for their kids to forget their Indian ways. Many have regrets about that.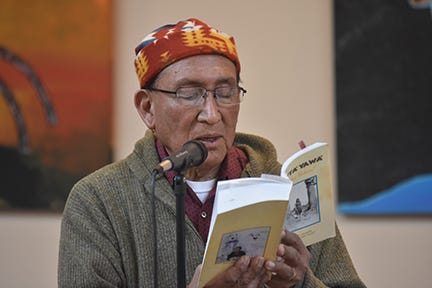 Reading a story in Serrano from his aunt Dorothy Ramon's book,
Wayta' Yawa',
at Dorothy Ramon Learning Center's 2017 Native Voices Poetry Festival (Carlos Puma Photo).
"A certain mystery"
Language has depth to it. When we say something in Maarrenga't, just the mere sound of the words, perhaps strange to the newcomer, carries a certain mystery beyond the meaning of the words.
This is the reason we need more speakers. The language has to be heard, it needs to live. The mystery of language reminds me of the mystery of art and music. It elicits contemplation and wonder.
The words in our songs tend to be a classical form of the language. The melody, rhythm, and words, all blended together, carry us away to another time, another place. I think that is one of the primary attractions of our songs, including the Bird Songs.
The Bighorn Sheep songs are interesting for these reasons, but have an additional element to them that set them apart from the Bird Songs. … We will discuss these songs further [in the future]."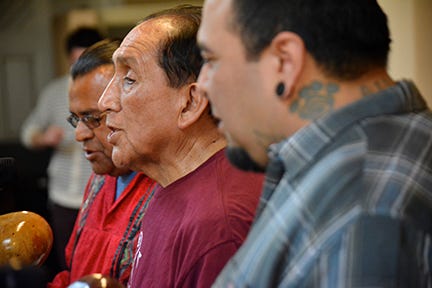 Singing at the annual Native Voices Poetry Festival with Kim Marcus and Paakuma Tawinat (Carlos Puma Photo).
More on the Power of Story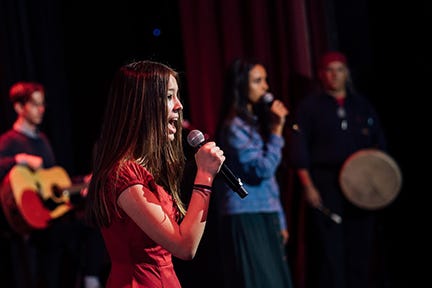 Sophia Madrigal (in red) performing in 2019 with her sister, Isabella Madrigal (in blue), in Isabella Madrigal's acclaimed play, "Menil and her Heart." (Photo courtesy of Sophia Madrigal)
"Our world needs Native voices telling Native stories. We need youth and adults experiencing together, and bringing forth, the Indigenous voice of the ancestors as guidance for our lives today."
One of our most popular News from Dorothy Ramon Learning Center reports came in July 2020 in Storytelling as Medicine. Sophia Madrigal, 16, her sister Isabella, 18, (both Cahuilla-Chippewa), and mother Renda Madrigal (Turtle Mountain Chippewa) told about the new Luke Madrigal Indigenous Storytelling Nonprofit, which Sophia founded in memory of her father, an activist, bird singer, and culture bearer.
The nonprofit works to promote healing through the power of cultural storytelling. Now Sophia Madrigal has written a play, which will premiere on November 6, online, hosted by Dorothy Ramon Learning Center. We'll share more about the video performance and the local, Native actors in our next News from Dorothy Ramon Learning Center. Here's a quick look, and how to join us at the premiere.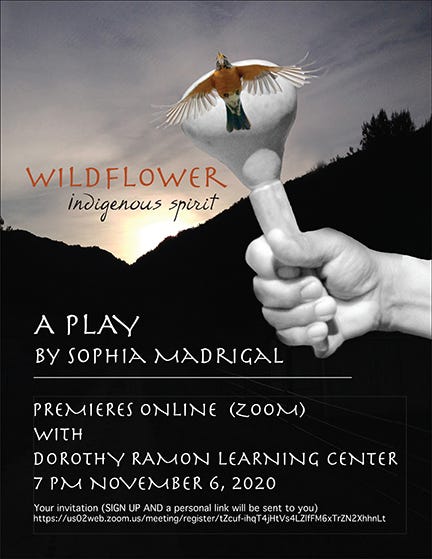 "Wildflower: Indigenous Spirit"
By Sophia Madrigal
The play, "Wildflower: Indigenous Spirit," grew from the Chippewa story of the ma-ki-sin waa-big-waan (also known as ladyslipper), a delicate and mighty wildflower that grows on the mountainsides of the Annishinabe people. This most rare, precious flower of the north is equal in strength and frailty. You pick any part of it, and the whole plant dies. Yet, this flower only grows in the harshest terrain imaginable.
How can a flower be both delicate and strong? Through the journey of young Wayanay, dealing with the loss of her father, this question is answered.
It's a moving story of the resilience and strength of Indigenous peoples. The Wildflower teaches the understanding that nothing is ever truly lost. It is a healing play that walks the landscape of grief, loss, and violence faced in Native communities. It is the story of family and cultural love. It teaches how to find beauty in pain, and how to discover pride in being Indigenous.
Watch the video performance
You're invited to the play's premiere (online) hosted by Dorothy Ramon Learning Center, partnering with the Luke Madrigal Indigenous Storytelling Nonprofit.
DETAILS: 7 p.m. Friday, November 6, 2020
Online via Zoom. Here's your invitation. Once you sign up, you'll be sent your own personal link to connect with the performance.
Notes
1. Chumash Elder Georgiana Sanchez, visiting lecture at a California State University, San Bernardino, Native American culture class in February 2006.
2. Ernest Siva, "Qay'tampc haypan' omik meewerrafk!" in the Heritage Keepers newsletter, © Dorothy Ramon Learning Center, Spring 2008, Volume 5, Number 2, Page 3.
Thank you!
We welcome ideas for News from Dorothy Ramon Learning Center: Email. Subscribe and get a little Native American culture in your inbox every week. (Gmail users, please check your promotions folder.) Thank you to all for your support! Pat Murkland, Editor. Oct. 21, 2020
Dorothy Ramon Learning Center is a 501(c)3 nonprofit that saves and shares Southern California Native American cultures, languages, history, and traditional arts. Join us at dorothyramon.org and Dorothy Ramon Learning Center on Facebook.